Mustard
A surreal comedy about friends, real and imagined.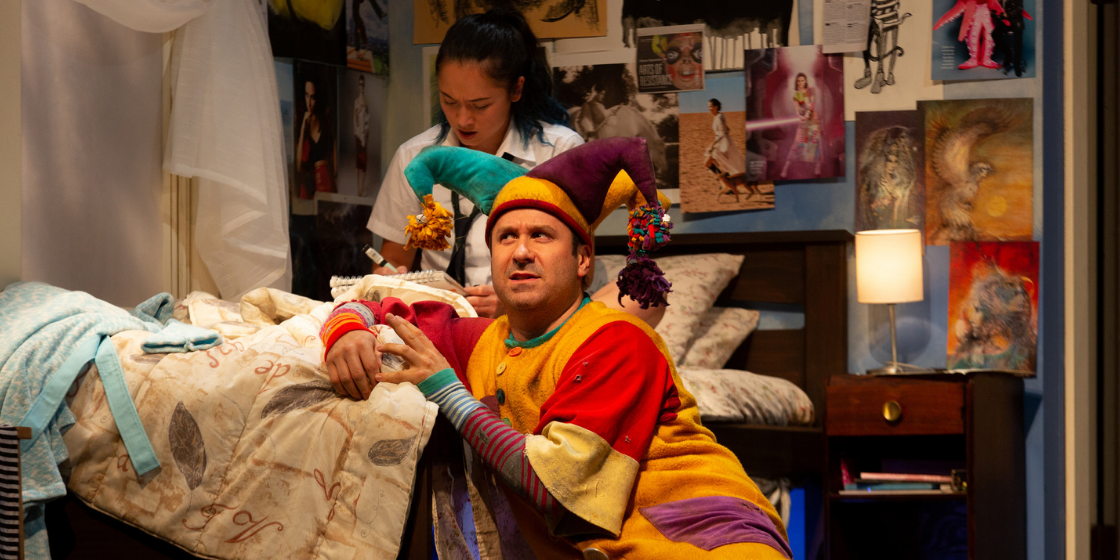 Victoria, BC...From October 30 to November 25, 2018, the Belfry Theatre will present Kat Sandler's Dora Mavor Moore Award-winning play, Mustard.
"Wonderful and weird…signals a powerful and welcome new voice in contemporary theatre." The Georgia Straight
Directed by Stephen Drover, Mustard stars Andrew McNee (from last season's musical, Onegin) and Jennifer Wasko-Paterson (from last season's Mom's the Word) with Heidi Damayo, Brett Harris, Chirag Naik, and Shekhar Paleja (all making their Belfry debuts). Mustard is a co-production with the Arts Club Theatre in Vancouver.
★★★★★ "90 minutes of emotionally complex, witty and well-paced magic — literally and figuratively." Examiner.com
Thai is 16 years old and no longer needs her imaginary friend Mustard - she's got Jay, her new boyfriend. The trouble is: Mustard is still living under her bed and he doesn't want to leave. More worrisome is that Mustard is falling for Sadie, Thai's recently separated mother, who's just started to see him too.
Kat Sandler won the 2016 Dora Mavor Moore Award for Outstanding New Play for this magical, twisted fairy tale about love, desire and moving on.
"Explores boundaries between adulthood and childhood, love and pain, fantasy and reality" Toronto Star
WHY I CHOSE THIS PLAY
Kat Sandler is a young playwright with a unique voice, and Mustard is an unusual combination – a sweet-natured comedy about the challenges life throws our way. Michael Shamata
Cast
Andrew McNee (Mustard)
Jenny Wasko-Paterson (Sadie)
Heidi Damayo (Thai)
Brett Harris (Bug)
Shekhar Paleja (Leslie)
Chirag Naik (Jay)
Creative Team
Stephen Drover - Director
Kevin McAllister - Set Designer
Carmen Alatore - Costume Designer
Alan Brodie - Lighting Designer
Brian Linds - Sound Designer
Jan Hodgson - Stage Manager
Jennifer Swan - Assistant Stage Manager
Ranleigh Starling - Assistant Lighting Designer
--
Live & Outreach Events
B4PLAY
Saturday, October 27 at 11 am
Belfry Studio Theatre, 1291 Gladstone Avenue
Free Event. A live talk show hosted by CBC Radio's Gregor Craigie and featuring Stephen Drover (Director), Andrew McNee (Actor) and two experts from the community.
Podcasts
Our podcasts of B4Play and The Flame are available at belfry.bc.ca/podcasts.
Free Childcare Performances
Sunday, November 11 at 2 pm / Saturday, November 24 at 4 pm
To help young parents experience the Belfry, we offer inexpensive tickets and free childcare (for children aged 3 – 10) for young families on select weekend afternoons.
Children are cared for by a trained, professional Early Childhood Educator (ECE). Childcare space must be reserved in advance, at least 1 week prior to your chosen performance. To learn more, please email us at [email protected], or call the box office at 250-385-6815 to reserve tickets and free childcare.
Afterplay
Facilitated discussions – audience member to audience member – will follow every evening performance of Mustard (except Opening Night and Talkback Thursday). These are a great opportunity to share your thoughts and hear fellow patrons' reactions to the production and the ideas it presents.
Talkback Thursday
Thursday, November 8
Meet the actors post-performance when they return to the stage to answer questions and provide insight into the play.
VocalEye
Sunday, November 18 at 2 pm
For patrons with low or no vision, we offer this VocalEye performance during Mustard. Trained Audio Describers provide descriptions of the visual elements of the show, allowing people with low vision to enjoy the theatrical experience without missing any of the details.
--
Show Sponsors
Mustard is generously supported by Jennifer Roberts Florist.
Season Sponsors
The Belfry is generously supported by The Times Colonist and Helijet.
Public Funders
The Belfry is funded by the Canada Council for the Arts, Canadian Heritage, the Province of BC, BC Arts Council, CRD Arts Development and the City of Victoria.
--
Ticket Information
Tickets for Mustard range from $20 to $55 (plus GST). Tickets are available at 250-385-6815 or online at tickets.belfry.bc.ca. Prices are subject to change. Direct link for tickets - https://tickets.belfry.bc.ca/TheatreManager/1/login?event=1019
Rush Tickets
For our weekday evening performances we offer a limited number of last minute rush tickets at a discount. Rush tickets are:
> available at the Box Office 30 minutes before each evening performance (Tuesday to Friday),
> in person only,
> subject to availability, and
> 50% off our regular Zone 2 (Yellow Section) and Zone 3 (Red Section) ticket prices.
Ticket Discounts
Students – 50%
Seniors – 10%
Members of the Military – 25%
Groups (10 or more) – 10%
Performance Schedule (October 30 - November 25)
Tuesdays - Thursdays at 7:30 pm
Fridays and Saturdays at 8 pm
Wednesday Matinees at 1 pm (November 7, 14 & 21)
Saturday Matinees at 4 pm (Free Childcare offered on November 24)
Sunday Matinees at 2 pm (VocalEye offered on November 18; Free Childcare offered on November 11)
-30-
Mustard - Programme
PDF - 12 Mb
Download